This Shabbat at Temple Sinai
Erev Shabbat Service,

7:30 p.m.
Please join us this Friday, June 30, at 7:30 p.m. for Erev Shabbat services in the Sanctuary, led by Rabbi Vogel and Cantorial Soloist Rabbi Cherina Eisenberg. This will be our final service in the sanctuary until the summer's end (starting next week, summer Shabbat services in July and August will be held at 6:00 p.m. in Ehrenfried Hall). All are welcome.
Starting

next Friday

night: summer services at

6:00 p.m.

in Ehrenfried Hall
Starting next Friday, July 7, and throughout the months of July and August, plus the Shabbat of Labor Day weekend,
Friday
.,
Sept. 1
, Temple Sinai will hold Shabbat services every
Friday
evening in air conditioned Ehrenfried Hall at
6:00 p.m. until 7:00 p.m.
About half of these brief services are led by members of the congregation, while the others will be led by either Rabbi Vogel or Rabbi Shoshana. If you would like to sponsor a pre-service "nosh" during the months of July and August, please contact Kathy Arnstein,
assistant@sinaibrookline.org
.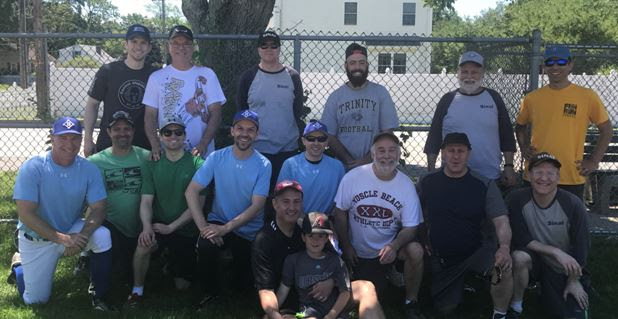 Softball news: A great season comes to a close!
After its most successful season in the team's history, team Sinai/Ohabei began the playoffs against Natick's Temple Israel. The game was played on a beautiful
Sunday
morning – perfect softball weather. The game started out as a pitching duel, the team played brilliant defense, and we even started off strong with a first inning two run home run by Aaron Altman. We lead most of the game, actually leading for six innings, but alas softball is a seven-inning game, and we succumbed 12 to 8. The Sinai group was well represented, including players, Gary Altman, Aaron Altman, Alex Cooper, Marc Cooper, Rob Ford, Rich Gold, Jon Katz and Andy, Zach and Mike Hogan (the Hogan trio). Bat boys Jacob Katz and Jake Ford made their dads proud by staying out of mischief the entire game. Check in with you next season!
~ Gary Altman and Alex Cooper, Coaches
Independence Day hours
Please note that the Temple office will be closed
Monday
and
Tuesday, July 3 and 4
in observance of Independence Day. The office reopens Wednesday morning,
July 5
.
"Holy and Unholy Objects" — begins

Wednesday, July 5 7:30 – 9:30 pm
The Tanach briefly but evocatively describes a variety of sacred (and not-so-sacred) objects, some of which are quite familiar. The Ark of the Covenant, for example, even starred in its own movie. Other objects are more obscure. What do you know about Moses' bronze snake, Neshutan, and why, hundreds of years after its creation, King Hezekiah felt the need to destroy it? We will visit the texts, midrashim, and commentaries on these and other objects, including the Urim and Thummim and the golden mice of the Philistines. Using the lens of holy and unholy objects, we will shed light on life in ancient Israel and explore our own theological commitments. No background is necessary. The class will take place on Wednesdays in July,
7:30 – 9:30 p.m.
Come to one or all of the sessions.
Update about the Syrian refugee family we are sponsoring
We were excited to announce
on Monday
that the Syrian refugee family Temple Sinai is sponsoring has travel documents and is expected to arrive in Boston on
July 13
. Also
on Monday
, the U.S. Supreme Court issued a ruling partially and temporarily upholding President Trump's ban on refugees entering the country. As far as we know at this point, we believe that the family we are sponsoring will be able to enter the U.S. and come to Boston. We will learn more in the days ahead from the agencies with whom we are working, and we remain hopeful that they will be permitted to arrive and begin their new lives in Boston.
We are currently seeking long-term housing for this family, ideally a 2-bedroom apartment in the Brookline area that also has an elevator or is on the ground floor. We are reaching out to you for leads for anyone you know (landlords, management companies, someone with an in-law apartment, etc.)
that might be able to offer housing to our family. Please contact Temple Sinai's Housing Committee if you have any suggestions:
Meet for dinner and drinks at Otto's on July 10 – to benefit Temple Sinai's Syrian Refugee Resettlement Project!
Dine in or take out from Otto's in Coolidge Corner from
5:00 – 9:00 p.m.
on Monday, July 10. A percentage of the sales that evening will be donated to JFS Metrowest to support our Syrian Refugee family. Please consider helping out in this way. (They even have gluten free pizza!) And invite you family, friends and neighbors to participate, too!
~Jill Winitzer and Mel Stoler, Co-Chairs, Temple Sinai's Syrian Refugee Project
New Families – register for Religious School online
Come Visit Israel, the trip of a lifetime! Temple Sinai's Israel trip, February 2018
Join Rabbi Vogel for our first Temple Sinai trip to Israel since 2013. We'll explore Jerusalem, Tel Aviv, Golan Heights & the Galilee, Haifa Masada and the Dead Sea, and more! Come celebrate Shabbat in Israel! This trip's focus will include Israel and social justice, Arab-Jewish co-existence, the Israeli-Palestinian conflict, Israel's LGBT community, person-to-person experiences, and more Experience the ancient history of Israel, and her beautiful and complex present and future, with Rabbi Vogel and your Temple Sinai community! A great trip for first timers or for those who have not traveled to Israel in a few years. To learn more, contact Rabbi Vogel:
RabbiVogel@SinaiBrookline.org
. A detailed website will be available soon.
Read about Temple activities over the past year
Chairs of Temple committees, project task forces and members of the staff have written reports describing their activities and programming over the past year. These have been compiled into a document available to all members. The report is posted on our website. Click
Annual Meeting Report 2017
. Read the report and learn something new about Temple Sinai!
Support the Campaign for Temple Sinai!
It's never too late to make a pledge or donation to the Campaign for Temple Sinai. Reminder: donations of $1,000 or more can be spread over five years and, if received by
June 30th
, will be eligible for an alphabetical listing on our Donor Recognition Wall. Visit our website at
www.sinaibuildingtogether.org
. If you have already pledged or donated, thank you!
The Rabbis' and staff offices have moved.
During renovations to the Temple Sinai school building, the staff has moved to temporary office space in Brighton. Religious services and most other Temple activities continue to take place at Temple Sinai, but the staff is now located in a suite of offices on the lowest level of the Chestnut Park Senior Housing facility, 19 Chiswick Road in Brighton, MA. Telephone numbers and address for mail remain the same.
In the community….
~At
7:00 p.m.
on Thursday, June 29, Kolbo Fine Judaica Gallery on Harvard Street, Brookline welcomes Dr. Esther Carmel-Hakim, an Israeli historian, Haifa University professor and author. She will share illuminating stores and insights about the work of Dorothy Kahn Bar-Adon, a trailblazing reporter who wrote in Palestine from 1933-1950. Dr. Esther Carmel-Hakim, co-edited a collection of Bar-Adon's writings about life in towns, kibbutzim, and Arab communities during the most stormy years of the 1930s and 1940s. This event is free and open to the public and light refreshments will be served.